Dr. Antonio Toscano de Brito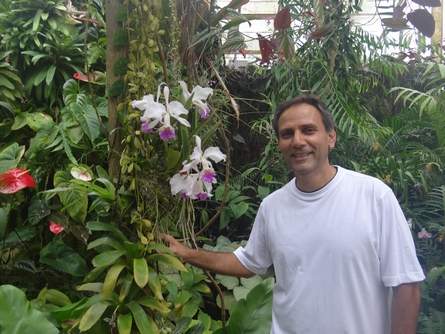 Topic: Newly Discovered Orchids of Brazil
We're fortunate to have Dr. Toscano de Brito return and share the latest in his world travels searching for new orchids and studying how they create new species in response to diverse environments. For our newer members, Dr. Toscano received his PhD. from the Royal Botanical Gardens at Kew, lectured at Harvard University, and participated in the Global Plants Initiative. He continues to be active at the Marie Selby Gardens in Sarasota where he heads the Selby DNA Monitoring Unit and frequently travels to Brazil where he is now a "Special Visiting Researcher" at Parana University.
He is the world's leading expert on the more than 4,000 species of Pleurothallids, mainly found in South and Central America. His lively presentation will be illustrated with many photographs from his friend and co-worker, Dr. Wade Collier, who accompanied him on his most recent trip and who also volunteers at Selby. Dr. Collier will provide tips on orchid photography in challenging environments. Following the presentation, Dr. Toscano will entertain questions from the audience and perhaps share a favorite recipe or two from his time in Brazil as owner/chef of the "Orchidarium", a Brazilian/Portuguese restaurant.