Speaker: Jim Roberts of Florida Suncoast Orchids
Topic: "Flasking" – Orchids grown from seed
One of our most popular presenters, Jim Roberts, will be returning for his third presenta­tion. He will be discussing and demonstrating techniques for the art of growing orchids from seed, a method known as "Flasking" that takes time and patience!
Jim will be bringing some flasks of high quality Cattleya and Encyclia hybrids that contain about 20 – 25 young plants per flask. Some of the flasks that will be for sale are from awarded orchids and start at $100. The general hybrid flasks will start at $35. Perfect for splitting with an orchid 'growing pal'!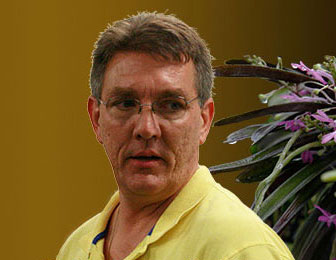 Jim is the owner of Florida Suncoast Orchids, located near Myakka City where he grows Phalaenopsis, Dend­robium, Vanda and his specialties: Cattleya and Encyclia hybrids.
He has three joined greenhouses covering 10,000 square feet. The greenhouses are open by appointment only. Jim exhibits at numerous shows, gives club presen­tations and you can also find his plants at local markets or order them online.
Jim will bring a great selection of orchids grown in this area to sell at the meeting. You can check out his website, www.floridasuncoastorchids.com, for informa­tion, beautiful photos and growing tips. The website is currently under construction, so ordering online isn't available.
We hope to see you there, supporting one of our few remaining local growers!
Location: Venice Community Center -(doors open at 6:30)