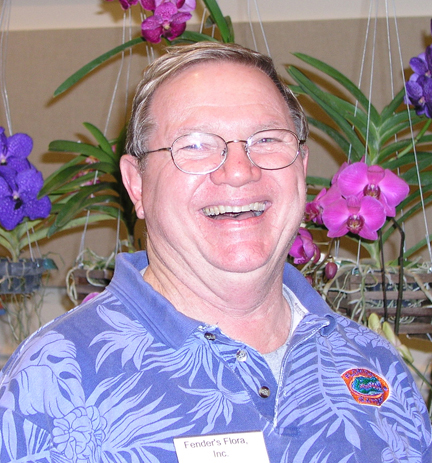 Bill Fender and his wife Susan are celebrating 43 years of orchid growing. Their first orchid plant, Bc. Binosa, received as a gift in 1969 from Susan's parents, is still thriving and blooming in the Fender's greenhouses! And their greenhouses are now right here in Venice, Florida at 254 Keystone Road, Venice, FL 34292.
Bill and Susan started their nursery business in 1974. Fender's Flora, Inc. was a wholesale nursery business for 25 years, growing Boston fern in Apopka, Florida (known as the foliage capital of the world). Bill and Susan's orchid web site, www.fendersflora.com, has been on the internet for more than 15 years. The Fenders have received over 12 awards from the American Orchid Society.
Bill has expanded his love for orchids into a unique breeding program using selected cattleya-type orchids that have been collected over the years. His emphasis in breeding is to produce frequent bloomers with fragrant flowers. He breeds both standard and compact cattleya-types, many with spots.
Bill's presentation, entitled "Bloom, Baby, Bloom!" will include information about how we can assist Mother Nature in encouraging our orchids to bloom. Producing more and better flowers is up to us. How do we do that?
If VAOS members and guests would like to bring their new orchid purchases from the recent orchid show, he will be glad to discuss how to grow them and answer questions.
Bill is a Florida native, born in St. Petersburg. Bill and Susan are VAOS members.