Speaker: Mac Rivenbach
Topic:  Introduction to the Philippines Species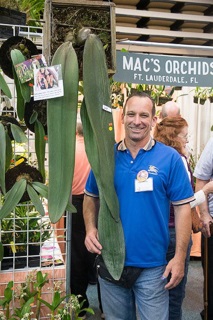 Mac Rivenbark and his wife Helen opened Mac's Orchids in Fort Lauderdale, Fl., in 2002, specializing in Asian orchid species, and have been members of the Fort Lauderdale Orchid Society since 1999.
He is a Chemical and Hygiene Specialist by profession and served a tour in the US Marines.  His passion for orchids grew after many fascinating trips to the Philippines and other parts of Asia and he was inspired to grow and collect different varieties of Asian species.  As of today, Mac has over 300 varieties of different Asian species that thrive here in Florida.  Mac's goal is to propagate these species and to help educate and inform others on the passion and ease of orchid growing.
Mac and his wife have belonged to many organizations and orchid societies including Mac serving as a past president of the Fort Lauderdale Orchid Society. Mac's program will consist of an educational and entertaining PowerPoint program and will also include many of Mac's culture tips as well as many beautiful photos.
His passion is infectious and he's looking forward to answering your questions. He'll be bringing a great selection of his outstanding orchids for sale.