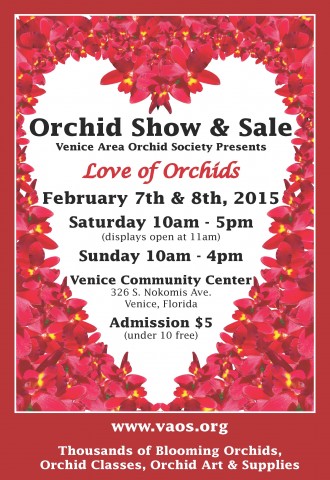 The Venice Area Orchid Society will present their 49th annual show and sale at the Venice Community Center in Venice, FL on February 7-8, 2015. Eighteen vendors will exhibit and sell 1000's of blooming orchid plants as well as orchid floral arrangements, artwork, jewelry, accessories and supplies. Widely regarded as the most popular orchid show on Florida's west coast, our theme this year is:
Love of Orchids

This major community event is expected to draw up to 4000 attendees from the tri-county area. Nationally recognized growers from as far away as Hawaii will exhibit and sell orchids. They include: Art Stone Orchids, Carmela Orchids, Florida SunCoast Orchids, Krull-Smith, Odom's Orchids, Palmer's Orchids, Phelps Orchids, EFG Orchids, Mac's Orchids and Plantio La Orquidea. More than 20 American Orchid Society (AOS) accredited judges travel from around the country to judge our showcase event. Cash awards and trophies are awarded to the best exhibits and plants in each class.
The Venice Area Orchid Society is one of the largest and most active orchid societies in the U.S. with more than 300 members. Our annual show is our major fund raising event and is always held the first full weekend in February at the Venice Community Center in downtown Venice. The VCC provides the perfect venue for displaying the orchid exhibits and sales areas. Please plan to join us!
Contact Carol Wood at ShowChair@vaos.org for more information.